Muchly belated, here are the many things I read in March! So much awesome reading. ❤
Here are some mini-reviews for a bunch of them and/or links to my reviews for the ones I reviewed in full… (Covers from Goodreads and all titles link to their pages on Goodreads as wel.) Enjoy! 🙂
Reviewed this on my other blog. Friendships and battles and Faerie and modern/medieval Ireland, huzzah!
Reviewed this. Lovely Regency romance! Melanie's amazing at this time period, just like I thought she'd be! 🙂
Well, strike me pink, that was a rollicking delight of fun and charming oddness! (Especially reading it aloud with British accents, because it did seem to call for it, despite the fact it's originally Swedish.) I believe it's quite possible that I'm now thoroughly addicted to the world of the Moomins!
Ack, I love it! *huggles book* Snufkin is my FAVORITE EVER! ❤ He's so awesome and just the best! And what he did about the signs . . . and his twenty-four little woodies — GAAHH SO CUUUUTE!!! ❤ I about died from the adorableness and awesomeness of this. Also, I love Little My. She's hilarious. XD All in all, great little book! ❤
Yet another fun one! I loved getting to read Moominpappa's memoirs — such escapades, such oddness, such fun! 🙂 Moominpappa has quite a "feel" to his storytelling. It's great. Also the Joxter was fun — nice to know where Snufkin's slightly lawless ways originated. 😉 So much fun! And I especially loved how the memoirs would pause occasionally as Moominpappa is interrupted in his reading by Moomintroll, Sniff, and Snufkin, as they ask questions about the story and their various daddies' adventures. Loved that! And the way that it all came together at the end was marvelous. 😀 The Moomin books are just loads of bizarre whimsical fun.
6. Deep Secret – Diana Wynne Jones
Read this for March Magics. Wow, what a book. o.o It was more adult than any DWJ I'd read before, but still so so good. It takes place almost entirely at a Sci-fi/Fantasy convention which was super fun. XD Also world-hopping and centaurs and just yes. I do mean to write a review, I just haven't yet…
Reviewed this on my other blog. It was AWESOME! But then, it's a medieval fairy tale romance story mixing Beauty and the Beast and The Princess and the Pea and it's by Melanie Dickerson, sooo… of course it's awesome. 😉 Possibly my favorite from her yet!
A good wintry tale, another fun Moomin story. 🙂 Little My is the best. XD
I FINALLY read this one! This was for Amber Stoke's read-along over at Seasons of Humility. Really enjoyed the book on the whole! I could have wished for less of Isabella (UGH I hated her) and more of Henry Tilney, but still. 😉 Maybe I'll post a more complete review at some point…
I don't read a lot of nonfiction but I was excited to read these nonfiction essays by Susan Cooper about writing. While some of them may be on writing "for" children, this collection wasn't really… It was a bit of a mixed bag for me. I didn't like/agree with everything, but she did have a lot of good things to say about fantasy and such, so that was fun! Definitely glad I read it.
Another scary, action-packed fantasy tale in modern Dublin with Skulduggery Pleasant the skeleton detective! But most importantly, containing numerous witty lines (by Skulduggery himself, naturally) and lots of humorous banter between him and Valkyrie, because THAT'S what I really read these books for! 😉 I don't think I liked it quite as much as the first one, but it was gripping and I find myself rather glad that it's a book instead of a movie because with a book, it's just the words and imagination; whereas if it was actually on a screen, it would probably be far too scary for me. 😉 And just think of all the dialog I'd miss in that case! o.o Skulduggery continues to be hilarious and awesome, the real reason I'm reading these things. I hope to have more awesome Skulduggery lines in the future… HE'S SO QUOTABLE AND FUNNY AND EPIC. Skulduggery's the best. ❤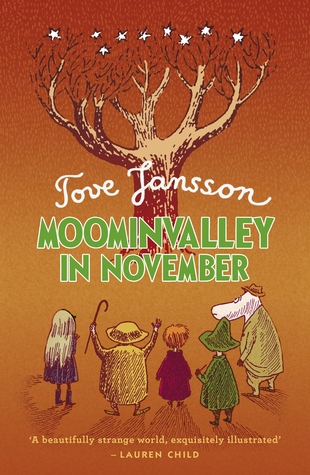 I was nervous that I wouldn't like this one at first… but it turned out okay, so I was glad. 🙂 I'm not sure I liked the translator of this one as much? And it starts out rather melancholy and I wasn't sure if I liked the characters much, but of course they grew on me. I thought it would be sad but it wasn't. Yay! And of course I love Snufkin! 😉 It was awesome how everyone kept coming to his tent. XD And I really liked Toft too, he's adorbz. Some of it was a little vague and hard to sort of grasp in your head if you know what I mean? And it definitely feels different than the other ones, probably mostly because the Moomins aren't there… And kind of more shadowy and melancholy. But I ended up enjoying it more than I thought, and Snufkin in particular (and Toft) make it better of course! 🙂
Aaaand reviewed this one. So much enjoyable! Will… ❤ Really fun little book.
***
I kind of read a lot in March! It was a good reading month.
Dream away in those pages . . .
~ The Page Dreamer