From time to time, either here or on my other blog, I've mentioned books I'm excited about that are coming out this year, but some I've discovered recenter so I haven't listed them, and some didn't have covers yet at the time I mentioned them. (Or at least I don't think so.)
So here are half-a-dozen books coming out later this year that I'm looking forward to! Because I feel like it! ^_^ (Simply as an excuse to share their gorgeous covers, you understand. ;)) All titles link to Goodreads so that you can add these beauties to your own TBR if you you so desire and haven't yet…
Without further ado, covers! (And lots of equations-of-awesome, shrieking, and of course parenthesis because why wouldn't I.)
A Branch of Silver, A Branch of Gold – Anne Elisabeth Stengl
May 16, 2016
Because a Twelve Dancing Princesses ish tale + Anne Elisabeth Stengl + that cover = I NEED THIS.
---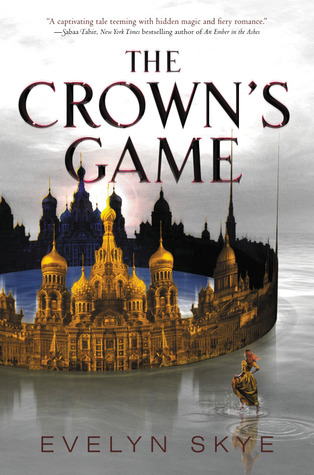 The Crown's Game – Evelyn Skye
May 17, 2016
Russian-esque fantasy + a magician duel + that gorgeous golden crown/castle thing cover = yes please and thank you.
(Also Cait says read it. So that makes this another yes.)
---
The Invisible Library – Genevieve Cogman
June 14, 2016
BLUE + GOLD + KEY + MAGICAL LIBRARY = THIS COVER IS AMAZING.
(I had thought this one came out like a couple years ago? But apparently (?) it had only released like… in the UK or somewheres and not here yet. So.)
---
Ghostly Echoes (Jackaby, #3) – William Ritter
August 23, 2016
Jackaby and his scarf on that cover ( ❤ ❤ ❤ ) + all the awesome dialog/bickering + magical mysteries = give it to meee! (HIM AND HIS SCARF THOUGH ON THAT COVERRRR!)
(I hear tell on Twitter* that in this one we will learn Jackaby's age!)
*Read the whole conversation on Twitter; it is gold. (Just don't trust Jackaby… he seems very indecisive about his own age…)
---
Crooked Kingdom (Six of Crows, #2) – Leigh Bardugo
September 27, 2016
That cliffhanger + Kaz + heists = I need to know what happens! (Is that the sound of my heart shattering?)
(Yes I did in fact use a gif from one heisty thing for another heisty thing. I will not apologize. Such awesomeness needs to stick together.)
---
King's Blood (Kinsman Chronicles, #2) – Jill Williamson
December 6, 2016
AAAHH THIS COVER!!!! (Sorry, no neat and tidy equation on this one; I'm much too incoherent about its amazingness to do that.) I know I haven't read the first one yet but I need this one already anyway. BUT BUT COVER. (I have a thing for blue and silver and gold, apparently.) I about died of shrieking the first time I saw it a few days ago. THE COVER-LOVE IS REAL, PEOPLE.
What do you think? Do you have any cover-love for these? Looking forward to any? What other awesome (or gorgeous-looking) books are coming out this year that you're excited about? Share all in the comments! 🙂
Dream away in those pages . . .
~ The Page Dreamer